"Fashion is ephemeral, but style is eternal," goes the well-worn phrase, variously attributed to Coco Chanel and Yves Saint-Laurent.
Though it may be a bit of a truism today, the sentiment was remarkably prescient for its time, as decades later, fads and fast fashion have reduced the life cycle of clothes to a couple of washes and wears.
But what about hair?
Hairstyles have always been a part of the ever-changing trend cycle, going in and out of style by the decade and even the year. But while clothes can be taken off, bought, and sold, hair is an essential part of ourselves, expressing biology and socially constructed identity. It can reflect where we came from, make a political statement, or communicate how we want to be perceived. Hair has been used to marginalize, while it has also been reclaimed and used as a tool of empowerment and liberation.
In the last century, celebrity culture as it exists now began to take shape with the help of television, film, and social media, giving public figures progressively larger platforms and allowing them to be seen by greater numbers of people. Celebrities became trendsetters and influencers, modeling the most fashionable clothes and hair. Not all celebrity hair choices have been immediately celebrated, however. Some hairstyles were ridiculed, particularly if they subverted white beauty standards. Other figures were dismissed for having hair that went against gender norms.
Top 25 Most Influential Celebrity Hairstyles
To show the evolution of hair and its relationship with cultural standards over time, Stacker compiled a list of 25 of the most influential hairstyles of all time—and the celebrities who wore them—from fashion magazines, news articles, as well as music and Hollywood history. Varying from lauded to loathed, these hairstyles nonetheless broke barriers and, in many cases, outlived their wearers.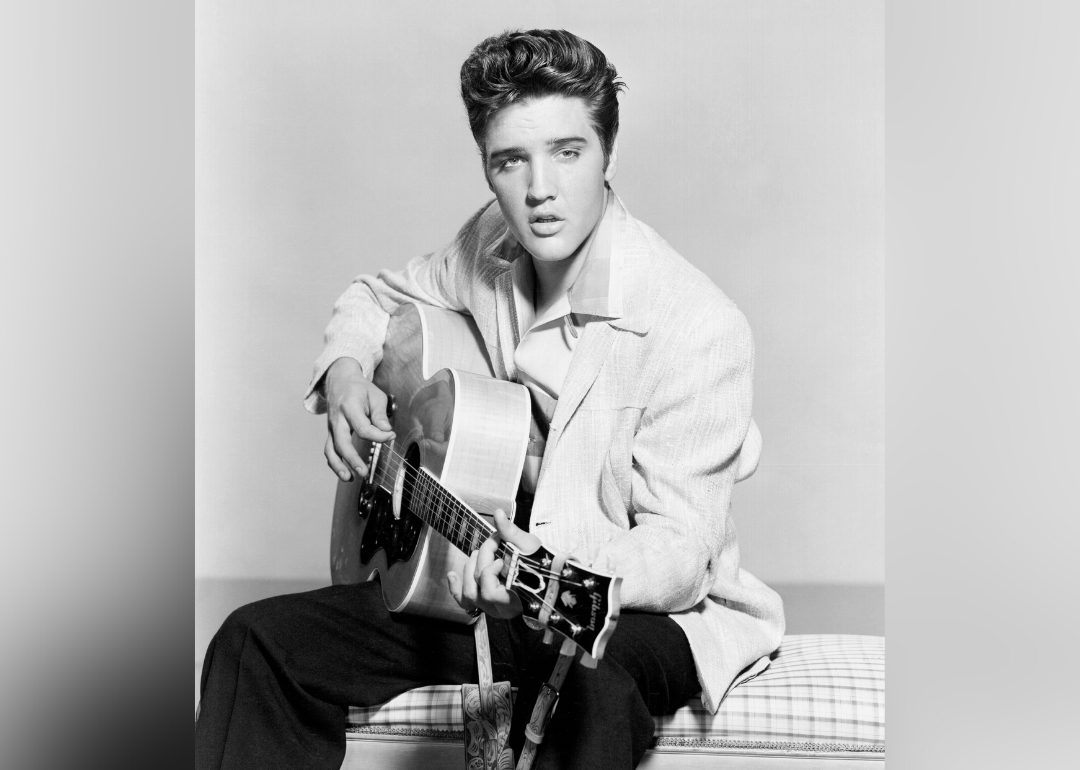 Michael Ochs Archives // Getty Images
1. Elvis' pompadour
Elvis' voluminous, slicked-back black coif remains a quintessential part of his legacy and an unmistakable element of his look. Inspired by the looks of Black artists like Little Richard, Elvis dyed his hair jet black and used wax and pomade to keep it in place, cementing the pompadour as his signature on the cover of his 1957 album "Jailhouse Rock." James Dean, who also wore the 'do in the '50s, helped cement the look as a classic, masculine style—a divergence from the pompadour's origins, which date back to the reign of Louis XV and his mistress (and the style's namesake), Madame de Pompadour.
Elis Presley's gravesite is one of the most popular celebrity gravesites that is visited by many fans daily.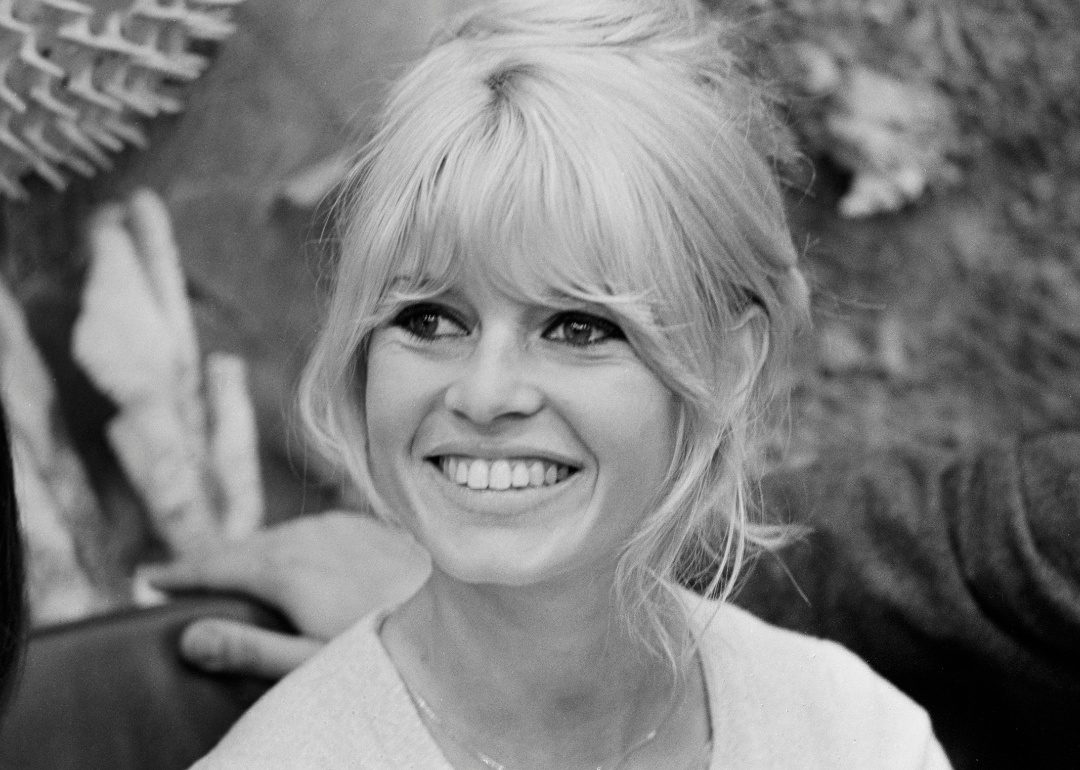 REPORTERS ASSOCIES/Gamma-Rapho via Getty Images
2. Brigitte Bardot's tousled curtain bangs
The French actor, singer, and cultural icon made waves not just in her own country but in the U.S., where her unbridled sexuality and style subverted the more buttoned-up conventions of the late '50s. Her blond, messy curtain bangs played an important part in her mystique, departing from the perfectly coiffed and controlled hairstyles popular at the time. Bardot's curtain bangs are still popular today, inspiring other trendsetters like Goldie Hawn and a generation of women.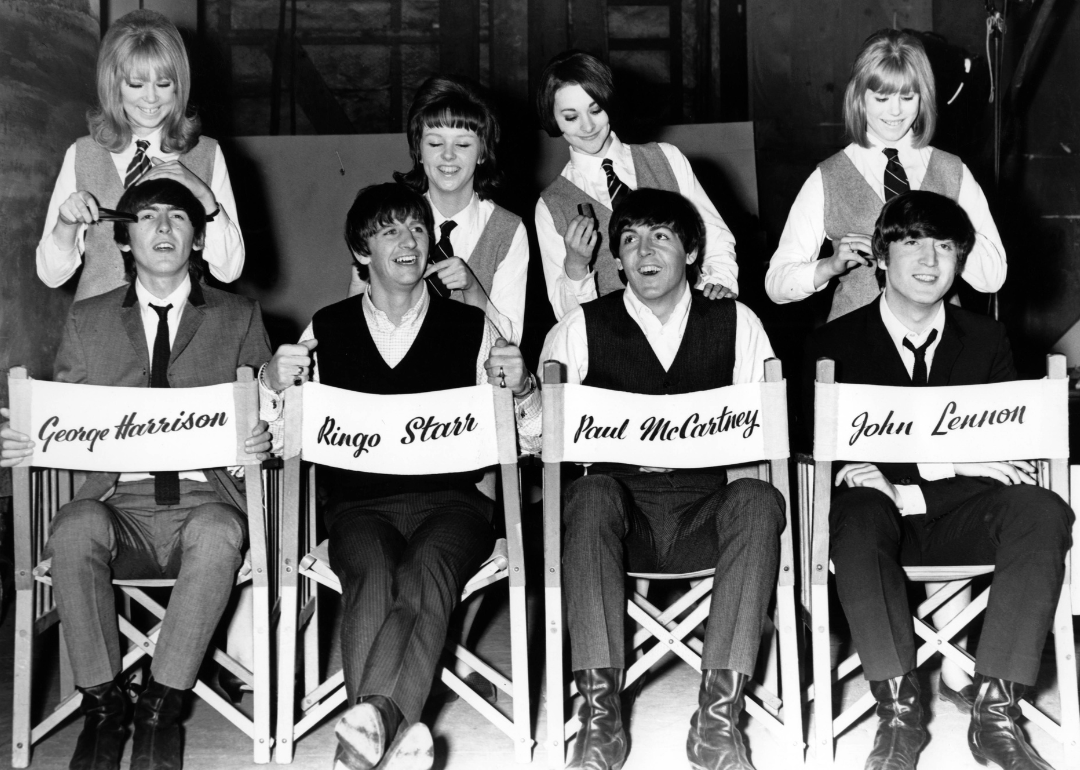 John Rodgers/Redferns // Getty Images
3. The Beatles' 'Arthur' mop-tops
Dubbed the "Arthur" by George Harrison, the shaggy mop-top style was sported, with some variation, by all four Beatles during the 1960s. Though there's some divisiveness over the origin of the haircut, it proved to be a timeless look, inspiring other musicians and countless fans to emulate the style. Thousands of Beatles-style wigs were sold. It was so influential that a British and an Australian school banned the haircut, blaming it for causing misbehavior.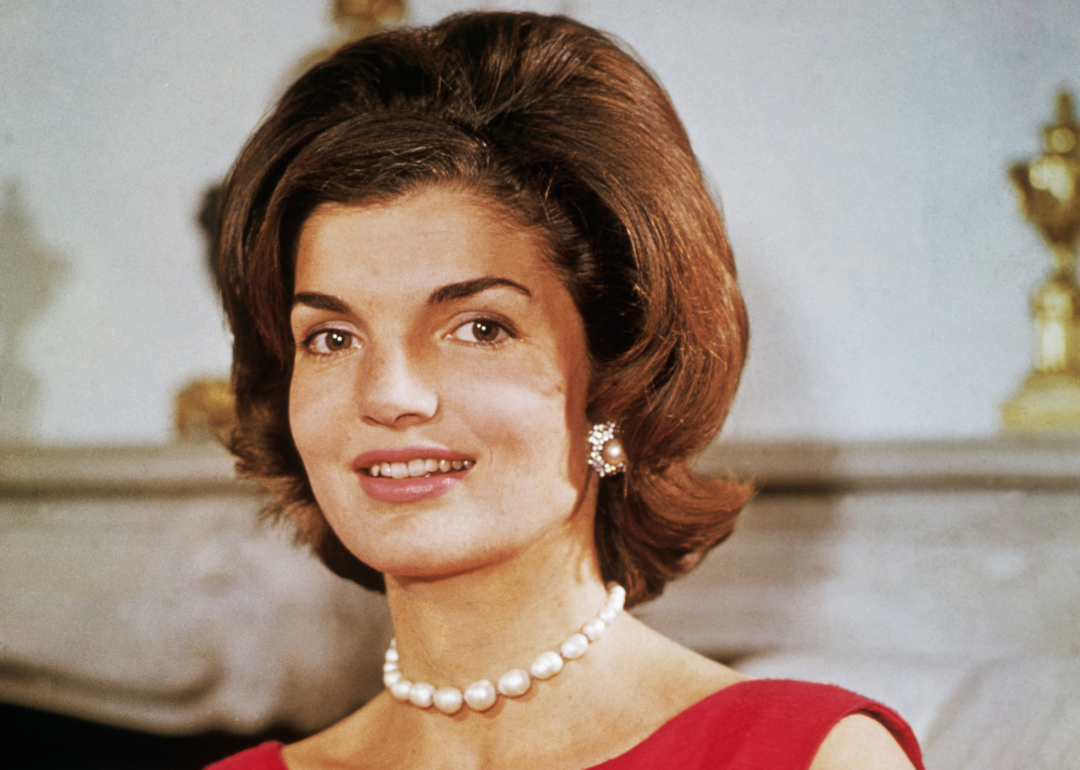 Bettmann // Getty Images
4. Jackie O's flipped bob
Few hairstyles defined a decade more than the flipped-up bob did in the '60s. First lady and style icon Jacqueline Kennedy Onassis famously sported the polished, voluminous bob and an enviable wardrobe made up mostly of French couture beginning in the early '60s, when John F. Kennedy's presidential term began. Her style inspired millions both during and after her time and has been commemorated by her induction into the International Best-Dressed Hall of Fame. Other prominent celebrities of the time, including Mary Tyler Moore, also wore the flipped bob.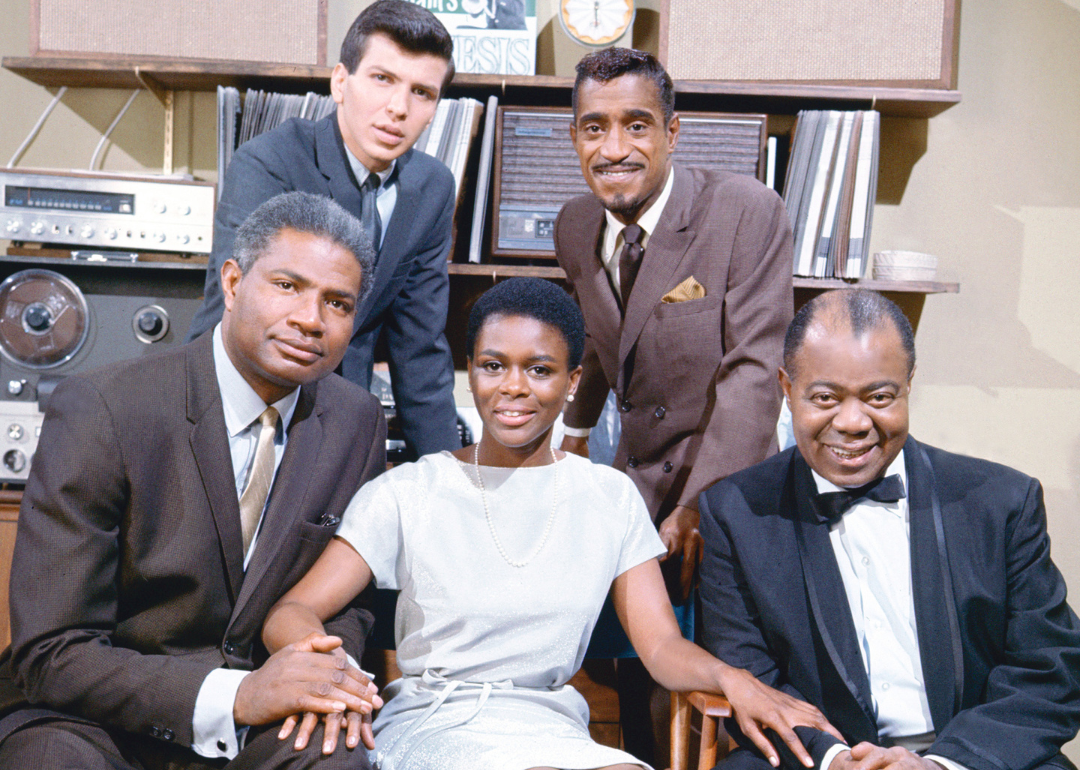 Silver Screen Collection/Archive Photos // Getty Images
5. Cicely Tyson's big chop
When Cicely Tyson cut her straightened hair off in 1963 in favor of a short-cropped look that showed off her natural curls, it took the world by storm. The cut was strikingly different from the straight or bouffant-style looks popular among many Black women of the time. Though she originally cut her hair for a small TV role, she kept the style when she was cast on the show "East Side/West Side," inspiring many women to embrace their natural hair. Tyson's hairstyle was so influential that she reported getting letters from hairdressers complaining that the cut's popularity was taking away their business.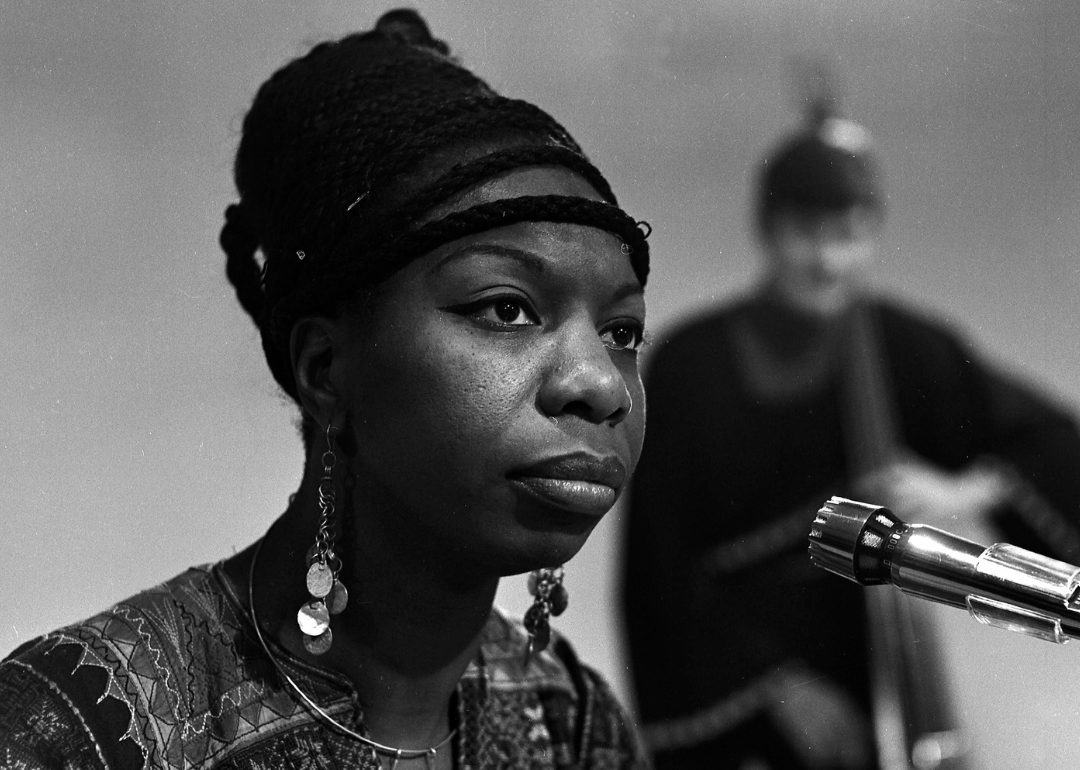 Roger Viollet via Getty Images
6. Nina Simone's cornrows
Although cornrows have a millennia-old history, thought to originate in Africa around 3,000 B.C., they were not commonly worn in public in the U.S. until the early '60s, when singer and activist Nina Simone began wearing the style while performing.
As the Black Power movement built momentum in the '60s, traditional Black hairstyles like cornrows became more popular—and political—in light of the discrimination many Black Americans faced for eschewing straightened hair. Other Black celebrities, including Cicely Tyson, Roberta Flack, and Stevie Wonder, further influenced the popularity of cornrows.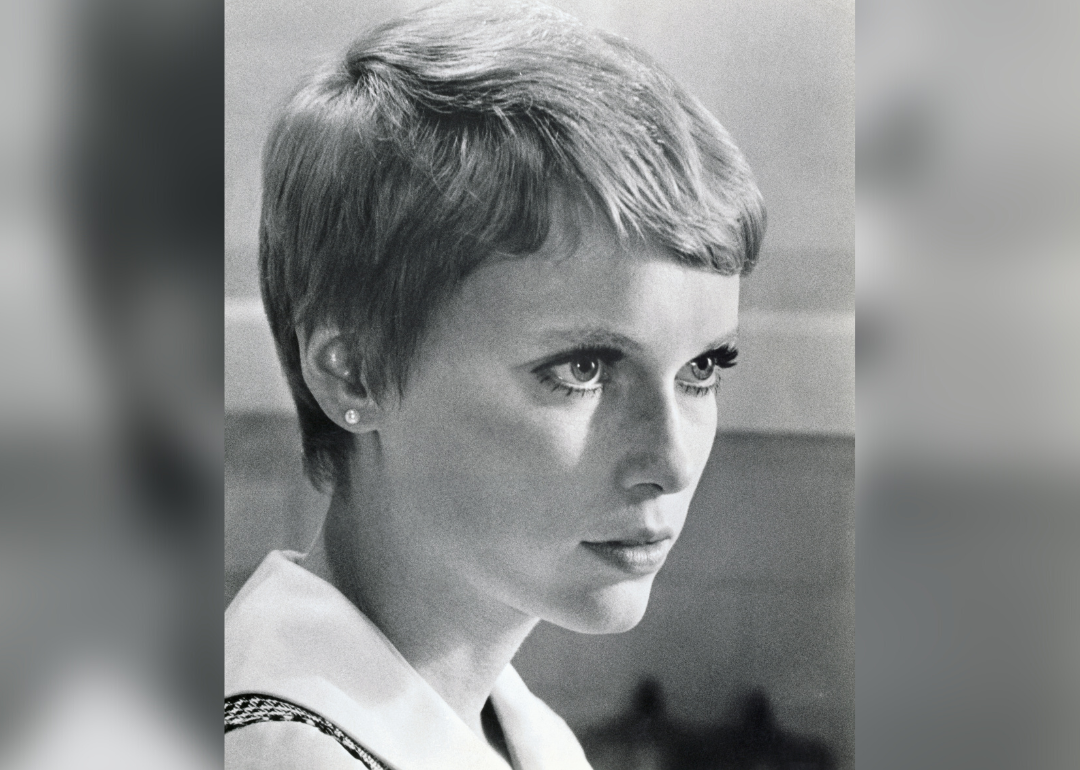 George Rinhart/Corbis via Getty Images
7. Mia Farrow's pixie
Mia Farrow's blond pixie cut, which she wore in the iconic 1968 horror film "Rosemary's Baby," is the stuff of legends—so much so that an entire Hollywood mythos was built up around it. The story went that hairdresser to the stars Vidal Sassoon created the look and that Farrow's husband, Frank Sinatra, loathed the look so much that he divorced her. Farrow herself debunked the myth, however: She had cropped her own hair with fingernail scissors long before the film, and Sinatra, her boyfriend at the time, loved the hairstyle. Farrow's look, along with Twiggy's, remains the quintessential pixie cut.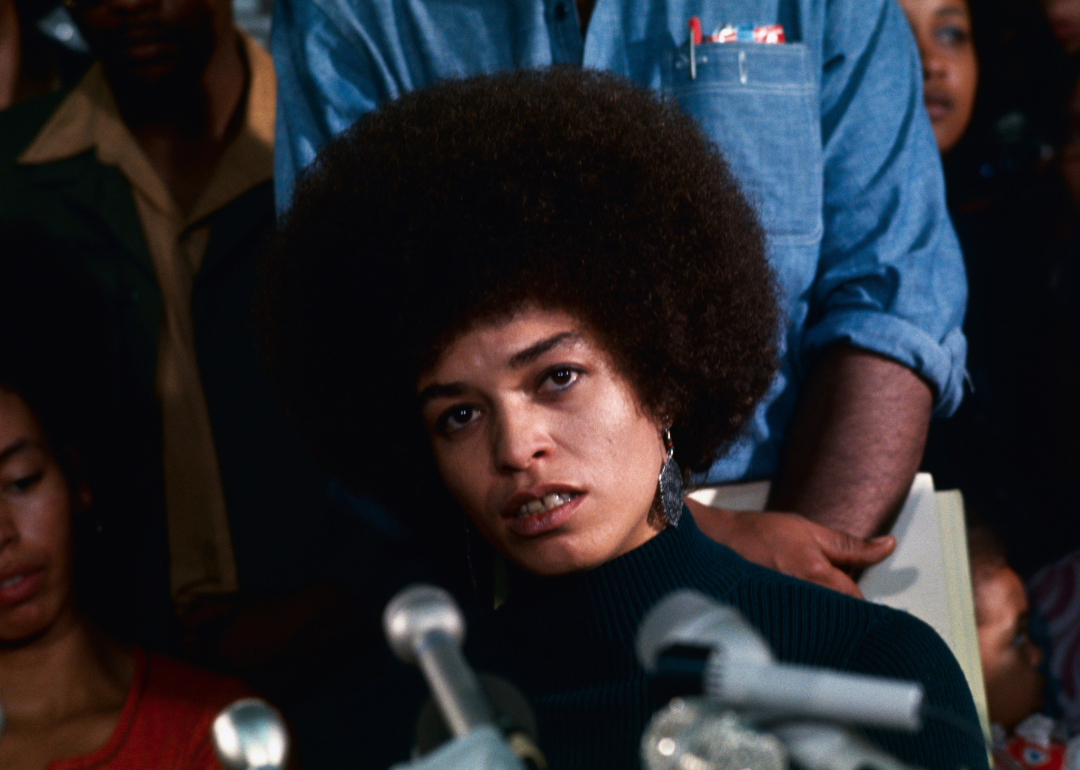 Bettmann // Getty Images
8. Angela Davis' afro
The Black is Beautiful movement grew out of the Black Power movement of the '60s and was focused on embracing Black hair and skin, as well as creating pride in Black culture while throwing racist standards of beauty out the window. Hairstyles like cornrows became popular, but the afro was perhaps the most influential, showing off the natural texture of Black hair. Activist Angela Davis' afro was particularly iconic, partly because of what it represented: Black pride and the struggle for liberation. Other prominent Black figures, including actors Pam Grier and Jesse Jackson, also sported afros, as did Black people across the country.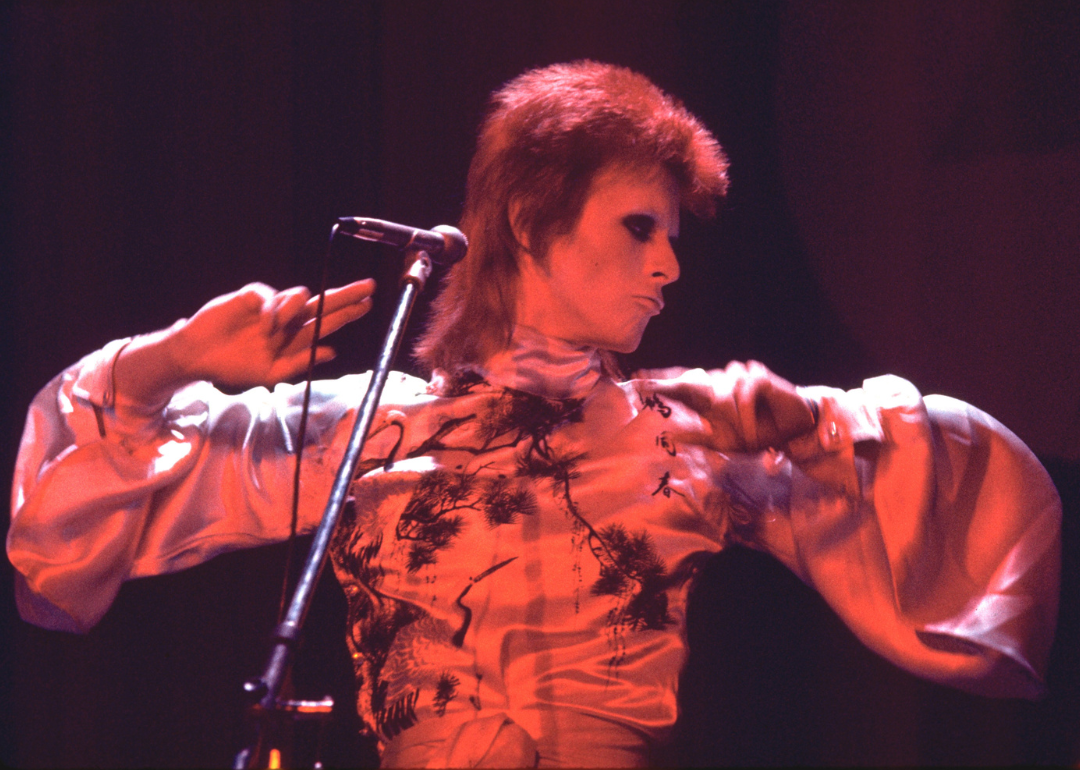 Chris Walter/WireImage // Getty Images
9. David Bowie's mullet
Before the mullet was called the mullet, David Bowie's Ziggy Stardust and his bright orange fringe were dazzling crowds beginning in the early '70s. Embodying a subversive, gender-defying look, the mullet took off among musicians and audiences alike, becoming particularly popular among queer communities. The style's trendiness continued into the '80s, when it became more mainstream, adopted by stars like Patrick Swayze and Billy Ray Cyrus, before shifting to become synonymous with low-income, rural whiteness by the '90s. Today, the mullet has regained popularity as a symbol of outsider pride.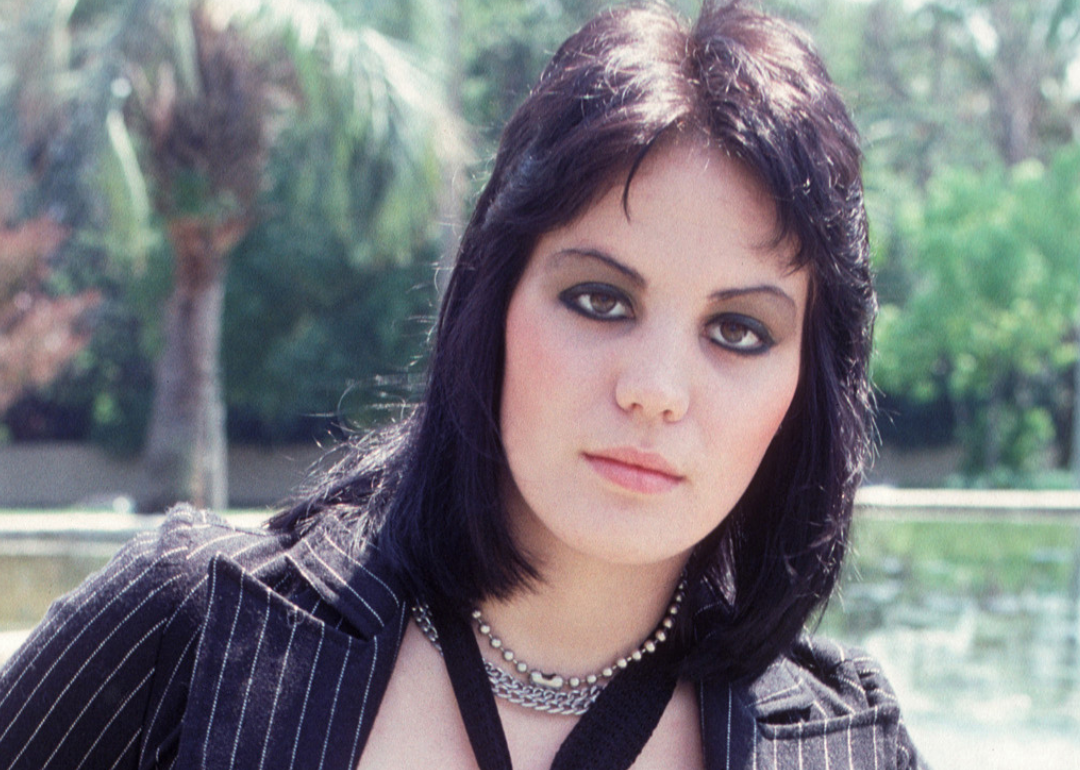 Brad Elterman/BuzzFoto // FilmMagic
10. Joan Jett's shag
The iconoclastic singer and punk Joan Jett sported her famous jet-black shag cut from the early days of the Runaways, and it continued to define her subversive style as she struck out on her own and eventually started Joan Jett and the Blackhearts. Coupled with her black leather garb, Jett's hand-dyed—and often self-cut—shag haircut has become emblematic of rock star hair in general. The counter-cultural look was also sported by Patti Smith and Debbie Harry of Blondie.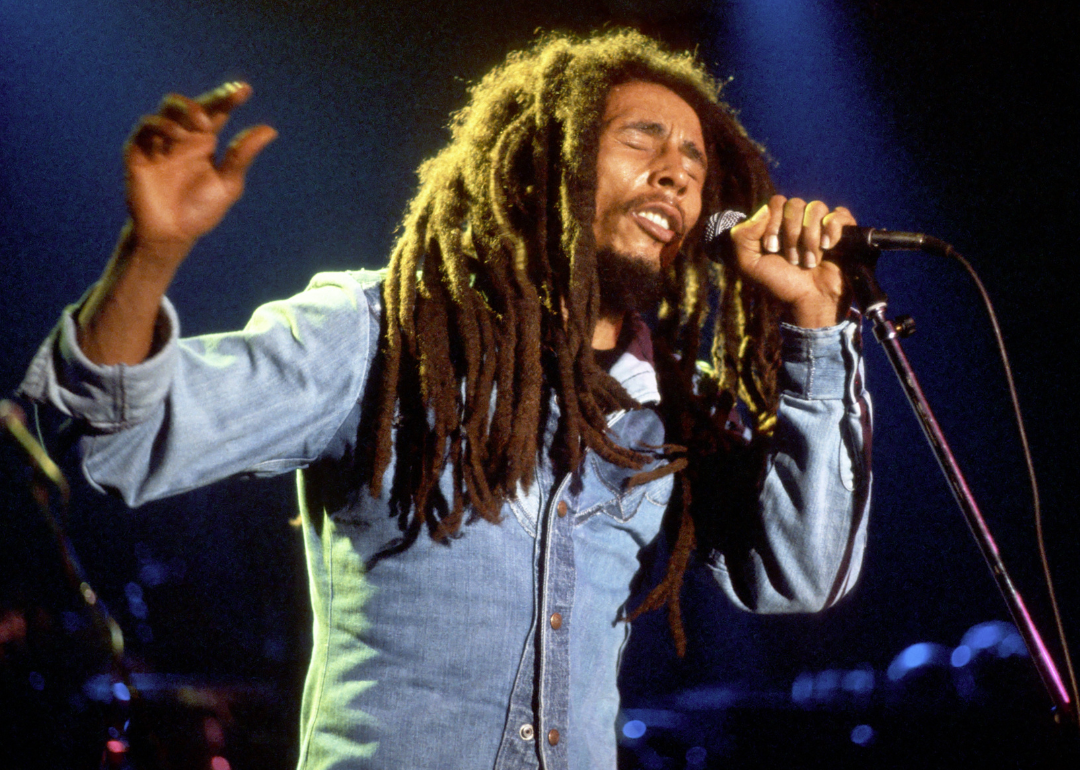 Michael Ochs Archives // Getty Images
11. Bob Marley's dreadlocks
Dreadlocks have a long, multicultural, and multicontinental history but really gained popularity in the U.S. after Bob Marley converted to Rastafarianism in the early '70s and adopted the style. As his music fused with his spirituality, dreadlocks became a symbol of both Rastafari faith and reggae music, although the exact origins of the hairstyle within the religion lack consensus. The style was further popularized by Whoopi Goldberg, Toni Morrison, Lenny Kravitz, and Lauryn Hill.
Dreadlocks have also been the subject of cultural debates about cultural appropriation: While white celebrities have donned the style and been praised for it, Black people are still often subjected to discriminatory and racist remarks in professional and other public spaces.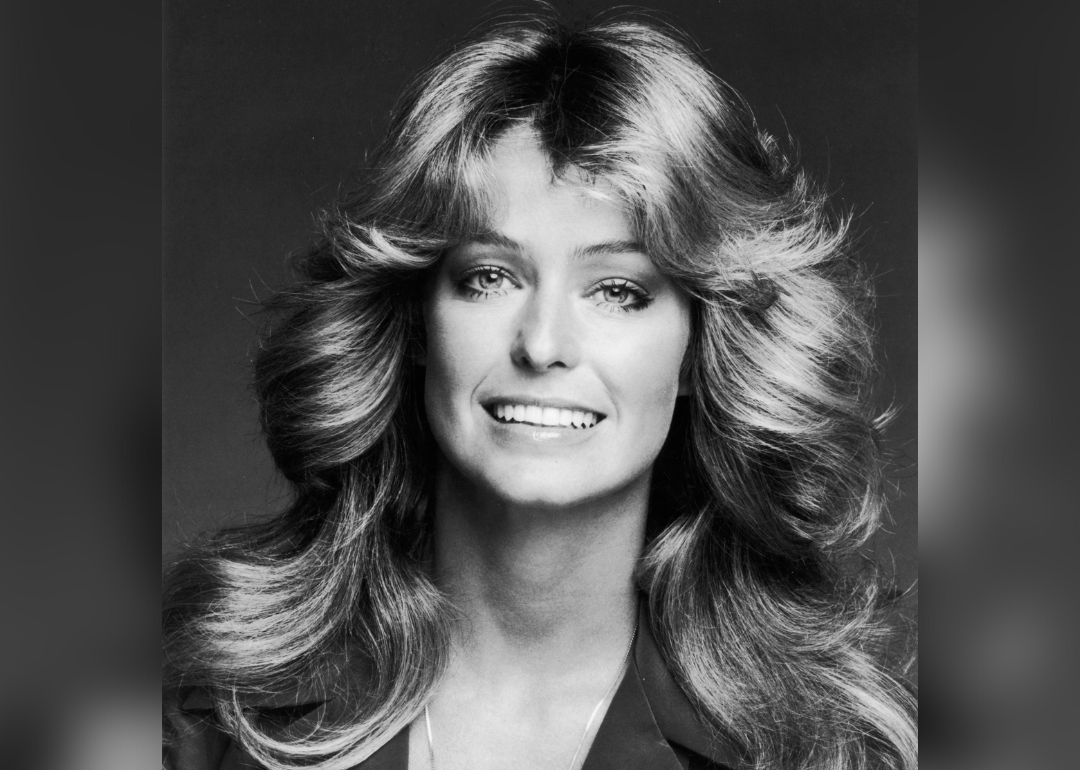 Hulton Archive // Getty Images
12. Farrah Fawcett's voluminous waves
When Farrah Fawcett appeared on a 1976 pin-up poster wearing a red bathing suit and her signature golden, feathered locks, it caused a sensation, selling over 12 million copies and sending crowds of people to hair salons, all in search of the same cut. When she debuted on "Charlie's Angels" that same year, Fawcett's blond mane took on new levels of fame—so much so that the show's producer, Aaron Spelling, later reflected that "her hair helped make the show." Though she left "Charlie's Angels" after only one season, her influence has proved timeless among those who have sported the style since the '70s and young TikTokers alike.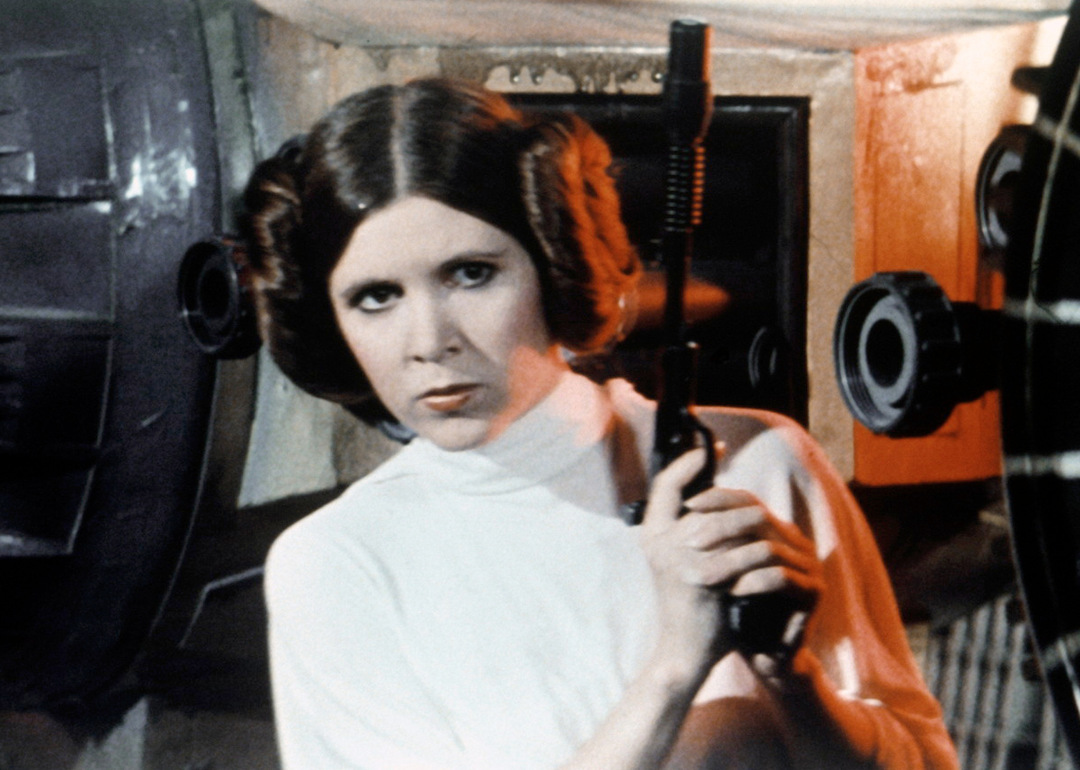 Sunset Boulevard/Corbis via Getty Images
13. Carrie Fisher's space buns
"Star Wars: Episode IV – A New Hope" screened in theaters across the country in 1977, catapulting Carrie Fisher—and her character Leia's signature buns—to stardom. Director George Lucas later reflected on the inspiration for the iconic hairstyle, citing a double-bun style worn by turn-of-the-century Mexican revolutionary women. Other historians have pointed out the look's resemblance to an Indigenous Hopi hairstyle called the squash blossom. While there's no official consensus around the source of the space buns, the look has evolved dramatically over the years and has been spotted on '90s celebs like Björk, Brandy, Gwen Stefani, and Scary Spice.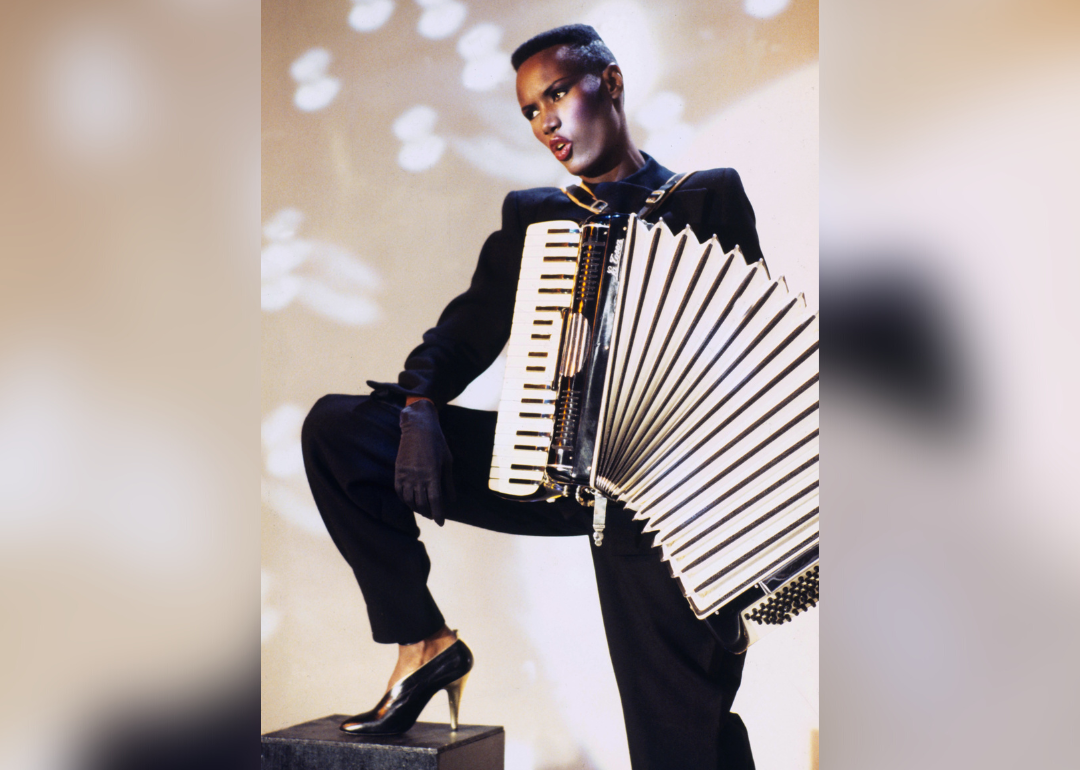 Horst Ossinger/picture alliance via Getty Images
14. Grace Jones' sculptural flattop
Before the peak hip-hop era hi-top haircuts of the mid-'80s, Grace Jones debuted a perfectly geometrical fade on the 1980 cover of her album "Warm Leatherette" and another sculptural flattop on 1981's "Nightclubbing." The style subverted gender expectations, mixing masculinity and femininity. Her striking, androgynous style—including her shaved head in the late '70s—made her a fixture of Andy Warhol's Factory and a trendsetter in the world of disco and influenced people of all genders to adopt her look.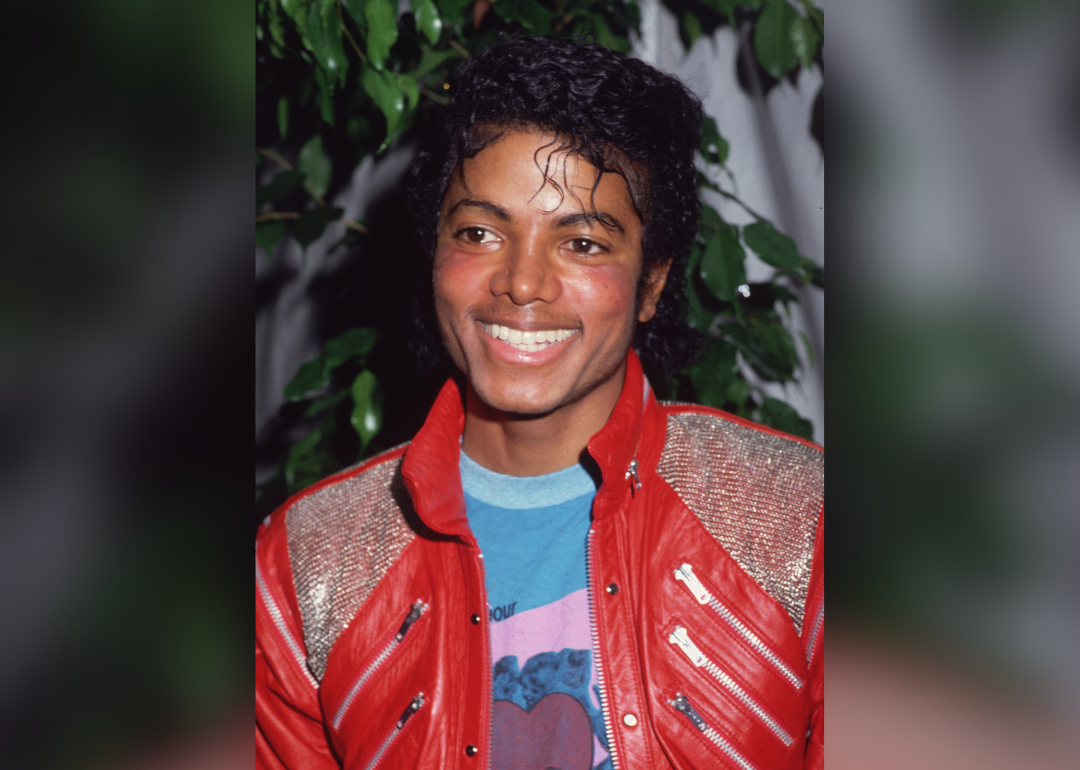 Frank Edwards/Fotos International // Getty Images
15. Michael Jackson's Jheri curl
In 1982, Michael Jackson's album "Thriller" burst onto the scene, shattering album sales records and ruling atop Billboard charts for weeks. But MJ's musical prowess wasn't the only influential part of the record: His hair, worn in a Jheri curl on the album cover, started a trend among Black Americans that would persist through the rest of the decade into the early '90s.
The Jheri curl was created using a chemical treatment that simultaneously relaxed and set natural curls, giving them a glossy sheen. While initially worn mostly by celebrities, the invention of the at-home, affordable Curly Kit by Comer Cottrell democratized and popularized the Jheri curl, enabling people to save hundreds of dollars and hours of time on the treatment.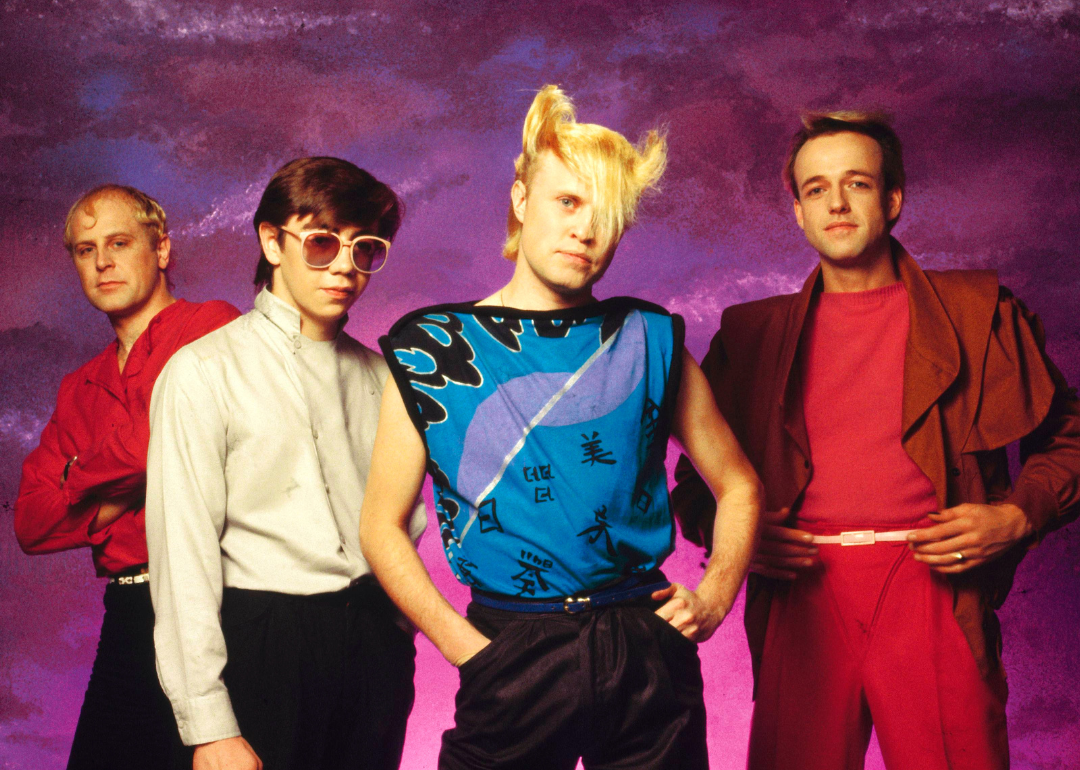 Fin Costello/Redferns // Getty Images
16. Mike Score's winged cut
Featuring flipped-up sides and a flattened top, this signature look sported by Flock of Seagulls frontman (and ex-hairdresser) Mike Score was created accidentally when the band's bassist rumpled Score's hair before they went on stage in the early '80s. The unconventional style was a big hit and inspired many fans to get the same cut, making it a staple of the decade. It has since made an indelible mark on pop culture, featuring in films like "Pulp Fiction," in which the character Flock of Seagulls is named after the distinctive 'do, to a cameo on the sitcom "Friends."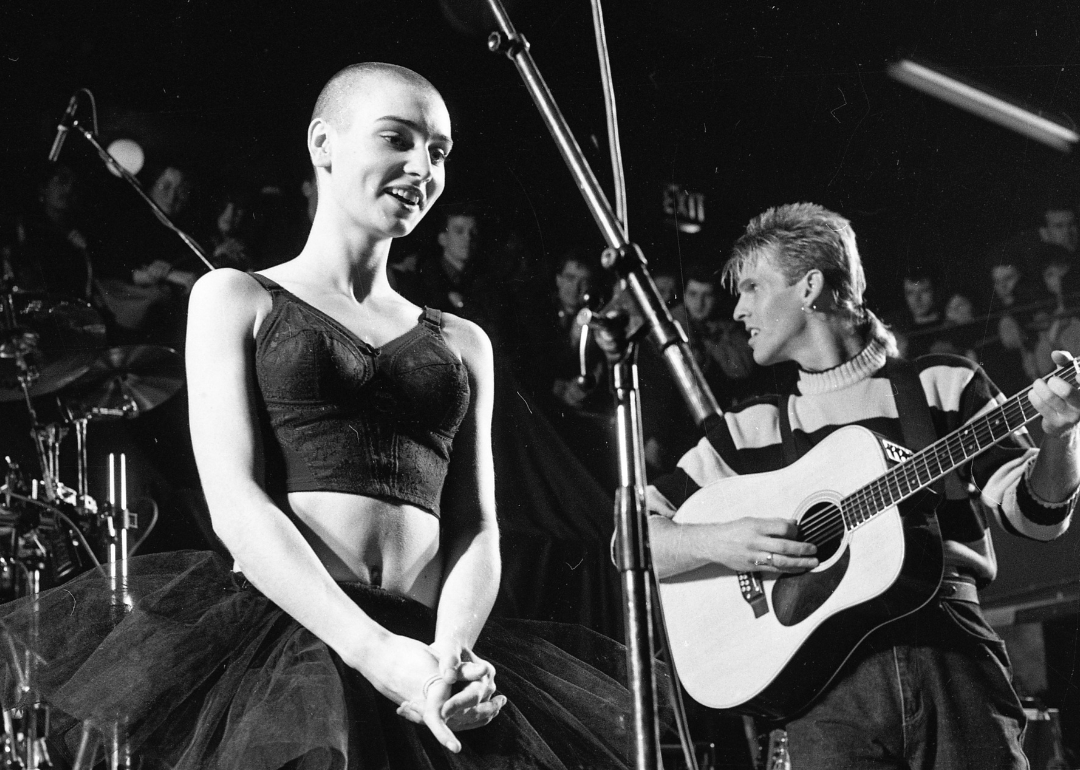 Independent News and Media // Getty Images
17. Sinead O'Connor's shaved head
Although she was far from the first woman to shave her head—Grace Jones did so a decade earlier—Sinead O'Connor's shaved head functioned as a political statement and an act of rebellion. Fighting against the constraints of rote femininity that music business higher-ups imposed, O'Connor was eager to shed the image of a traditional female pop star and embrace her identity as a more genderless punk and protest artist.
At the time, her shaved head, as well as her political actions, were decried and mocked in the media. In the decades that followed, however, more and more women shaved their heads, embracing the action as a rebellion against cultural norms, as a liberatory action, or as a purely aesthetic choice.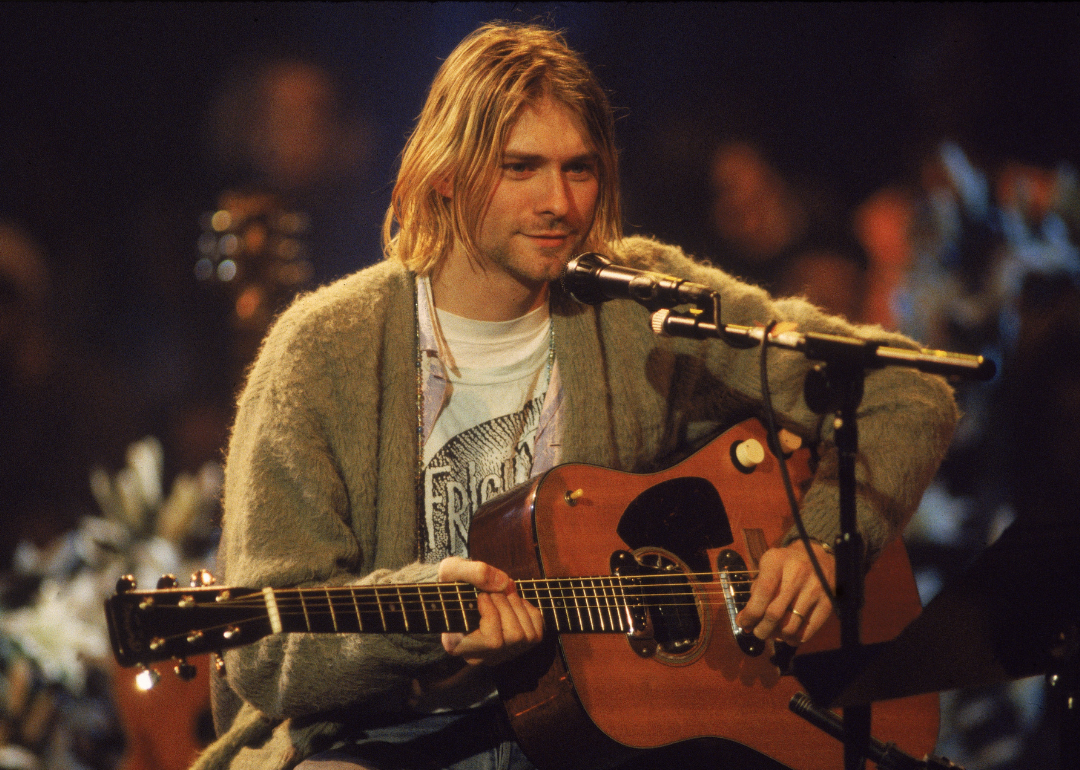 Frank Micelotta // Getty Images
18. Kurt Cobain's grunge bedhead
Even before his tragic death in 1994, Kurt Cobain was already embraced as a grunge fashion icon, with fans adopting his threadbare style of dress—although his style was borne out of necessity, rather than choice. His shoulder-length, bordering-on-unwashed hair also became legendary, although this, too, was a product of financial hardship rather than aesthetic preference. Cobain's hair has taken on so much cultural significance that six strands of it were sold for over $14,000 at a 2021 auction.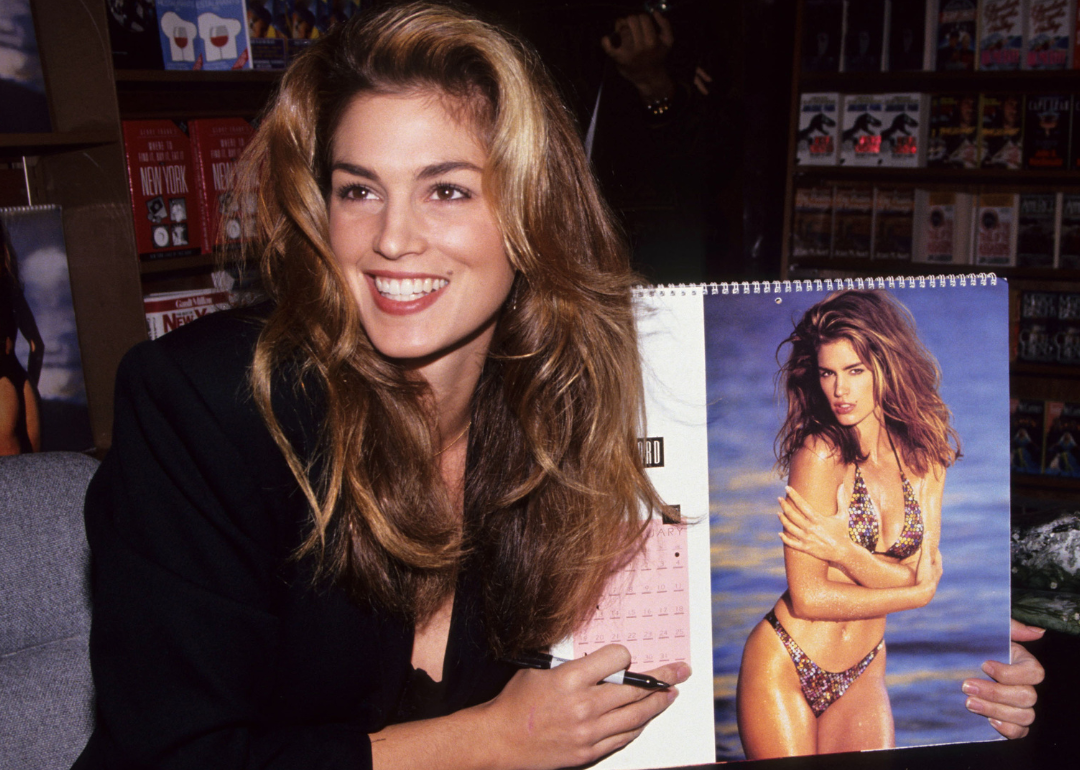 Rose Hartman/WireImage // Getty Images
19. Cindy Crawford's face-framing highlights
Cindy Crawford wore the two-tone hair look in the '90s, otherwise known as "'90s bangs," with light brown front strands against her darker brown hair. The famed socialite and philanthropist Deeda Blair also wore her graying front streaks stylishly against her otherwise dark hair, inspiring the likes of Karl Lagerfeld to have his runway models emulate the "Deeda" look. The style is reminiscent of the Marvel character Rogue, whose white front pieces contrast her brown hair. Different iterations of the front strands have since appeared on celebrities like Dua Lipa, Beyoncé, and Kylie Jenner and have made a resurgence on TikTok.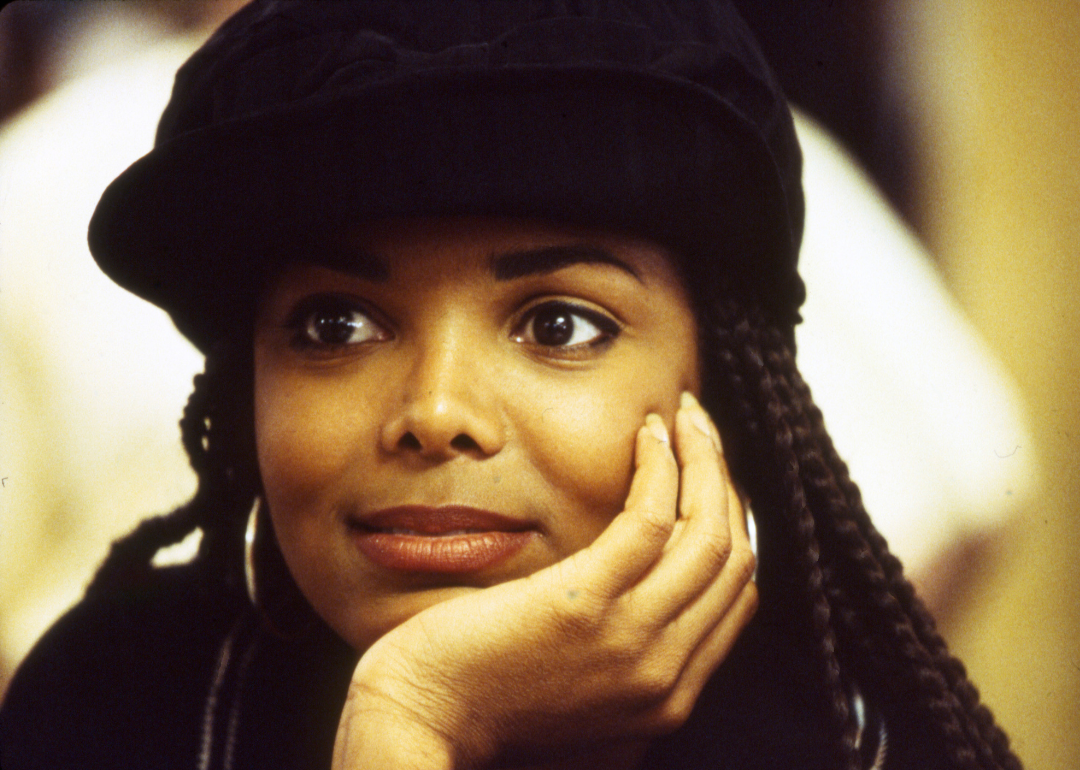 Anthony Barboza // Getty Images
20. Janet Jackson's 'Poetic Justice' box braids
When Janet Jackson starred in the 1993 John Singleton-directed drama "Poetic Justice" opposite Tupac Shakur, her iconic box braids were not the only thing that made a splash: At the time, there were few Black female leads seen on screen. Her braids, inspired by dancer Jossie Harris' hair in the Michael Jackson music video for "Remember the Time," set off a trend among Black women in the '90s and remain popular today.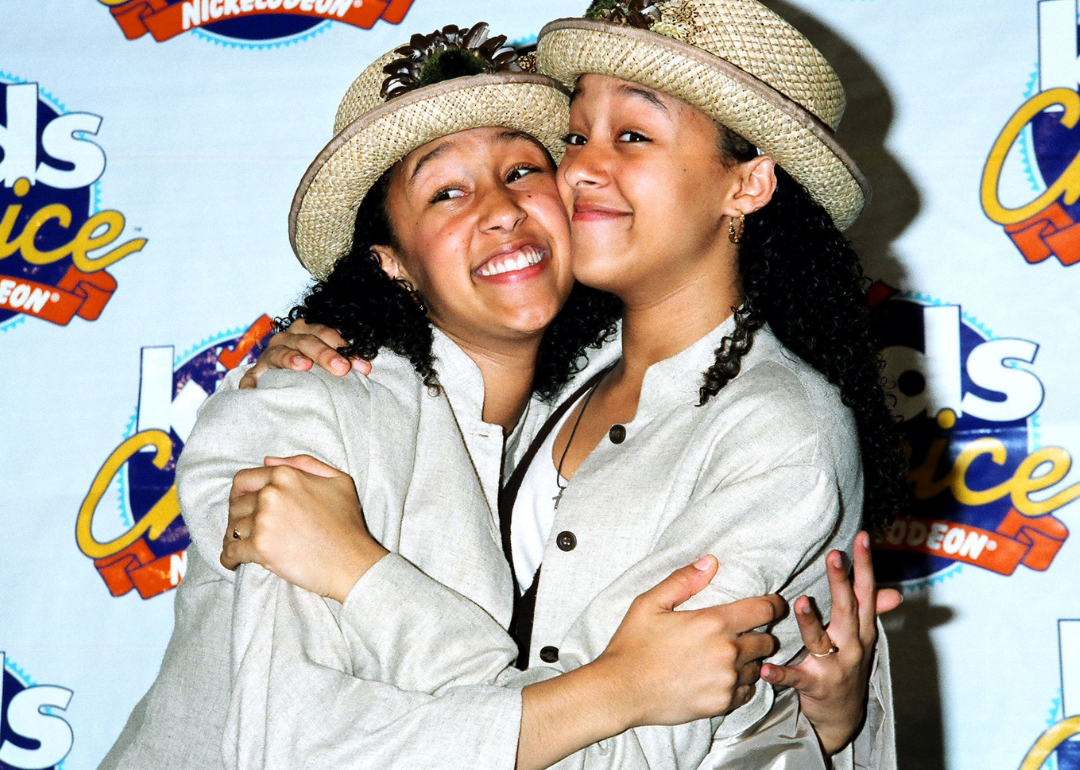 Jeff Kravitz/FilmMagic, Inc // Getty Images
21. Tia and Tamera's natural curls
Twins Tia and Tamera Mowry starred in the series "Sister, Sister" beginning in 1994. The show premiered when they were just 15 years old, and they wore their natural curls for the first several seasons. In later seasons, however, the sisters straightened their hair, a decision that was made after experiencing racist pressure and microaggressions from the industry about their natural hair. The Mowry's natural curls made a big impact, however, inspiring young audiences to embrace Black hair and beauty.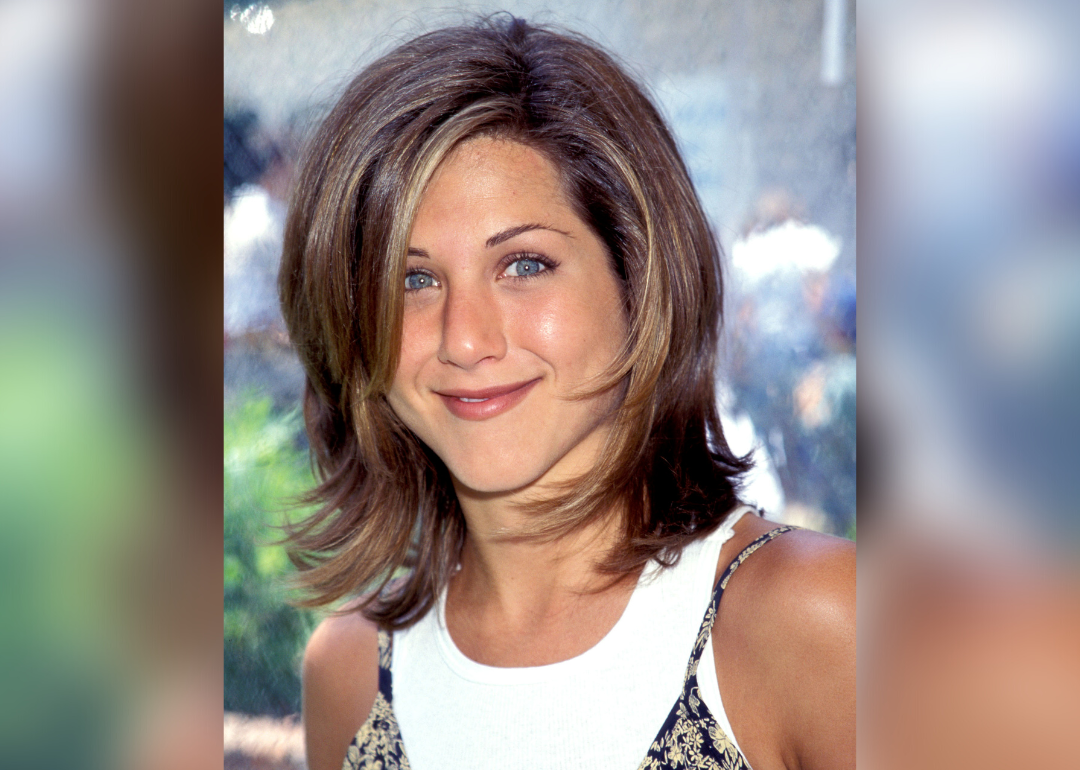 Kevin Mazur/WireImage // Getty Images
22. Jennifer Aniston's 'Rachel' cut
Jennifer Aniston's haircut on the hit sitcom "Friends" was as influential as the show itself, becoming a symbol of '90s style replicated by tens of millions of people worldwide—according to Haircutters Journal International, roughly 11 million women in Britain alone asked for the cut.
First debuting in 1994, the "Rachel" is a choppy, layered look with light brown highlights and an effortless-looking bounce. Its legacy is still going strong: After the "Friends" reunion was announced in 2021, demand for the cut reportedly spiked significantly, keeping with current '90s style nostalgia among younger generations.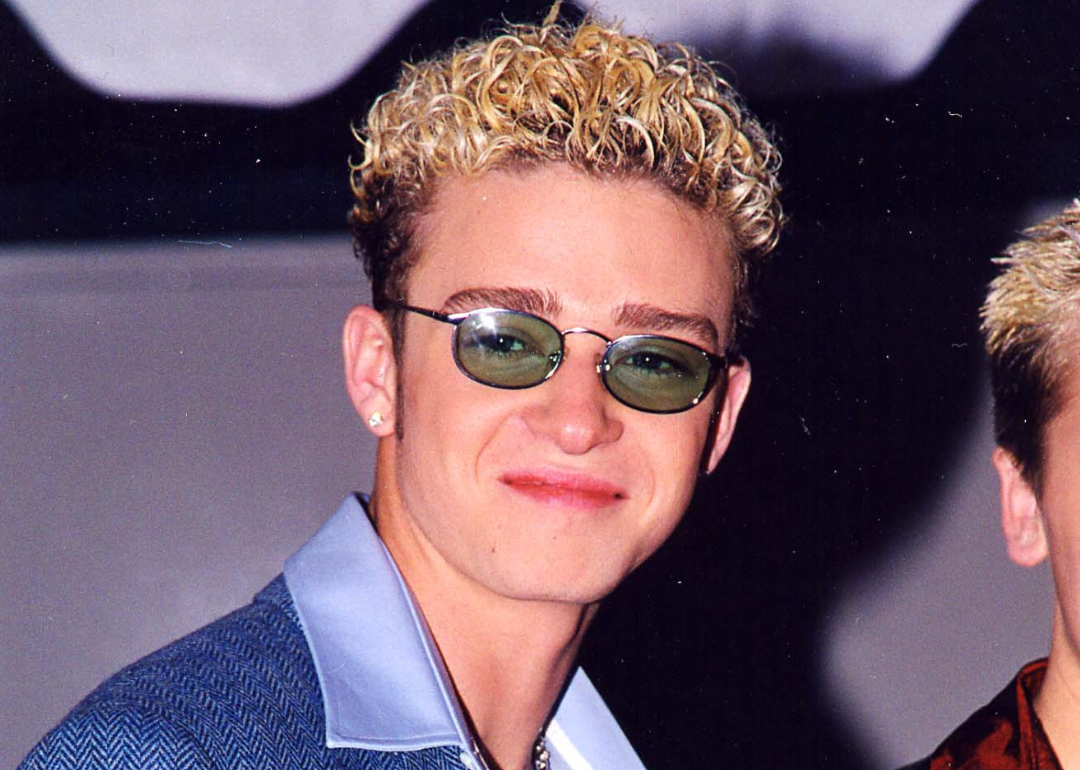 Jeff Kravitz/FilmMagic // Getty Images
23. Justin Timberlake's frosted tips
The former 'N Sync heartthrob debuted this most famous—and mocked—hairstyle in 1998. Justin Timberlake's frosted tips were so blindingly bright and curly that many likened the look to ramen noodles, but this didn't stop the trend from taking off, particularly among young people in the late '90s and early aughts. Now the Y2K style is seeing a resurgence, with younger generations, both famous and not, bringing back the look.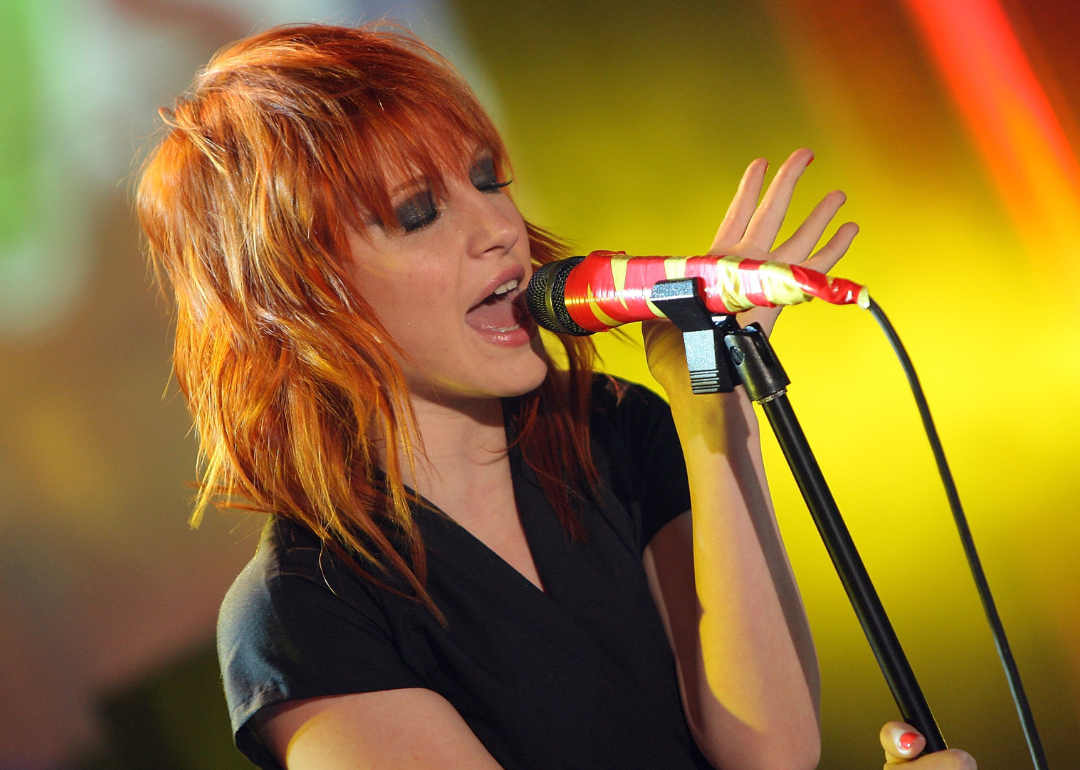 Michael Loccisano/FilmMagic // Getty Images
24. Hayley Williams' fiery orange locks
As the lead singer of the 2000s punk rock band Paramore, Hayley Williams has always been recognizable for her vibrantly dyed hair. Though she's cycled through different colors over the years, her bright orange look, which she wore when Paramore started to make waves with their 2007 album "Riot!," is probably her most recognized style. Her hair and style, a combination of hyper-feminine bows and skirts combined with combat boots, inspired a generation of Tumblr-era teens and younger Gen Z performers like Olivia Rodrigo, Billie Eilish, and Willow, both in their aesthetics and their music.
Ian Willms/Toronto Star via Getty Images
25. Justin Bieber's swoosh
When 15-year-old Justin Bieber burst onto the pop scene in 2009, it wasn't just his angelic voice that earned him a loyal fanbase of tweens and teens—it was also his hair: a long, side-swept, helmet-like swoosh. A longer, more glossy version of the Beatles' mop-top, the Bieber swoosh was so popular that it was, for a time, the go-to look for depicting teenage boys on TV. Despite its popularity, some stylists reported many of the teens requesting the cut were too embarrassed to refer to it as the Bieber.